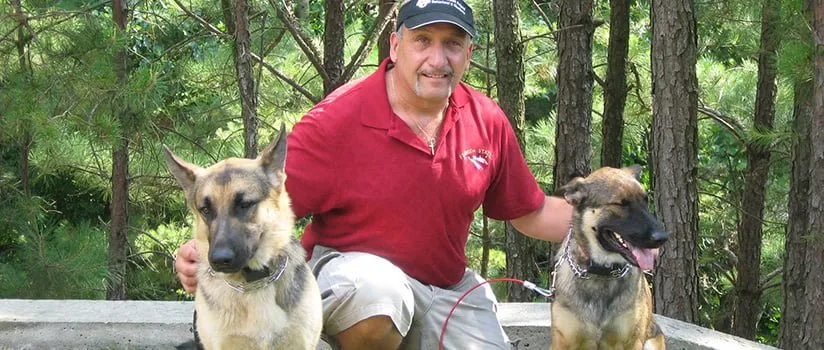 My Personal Guarantee:

➼ No charge for any training if you don't notice a difference in your dog's behavior before the session is over.
➼ No expensive multi-lesson packages to commit to.
➼ Top Rated Reviews on Google, Yelp and Angie's list.
Paul Pipitone
Behavioral Rehabilitation | Obedience Training
I want to thank you for visiting my website and let you know how I developed a passion and skill for dog training.
I became interested in dog behavior when I was about 12 years old. My family had always had dogs and they were, for the most part, well behaved. In my teens, I was drawn to the larger, more powerful breeds like Shepherds, Dobermans, and Rottweilers. In the early 1970s, when I turned 18, I bought an AKC registered Doberman pup that was just 10 weeks old and named him Kilo (does anyone else remember the 70's?) I found a trainer near me with great recommendations who spoke like a Gestapo Colonel. When I arrived at her training facility for the first time, I got out of my car and was leaning against the trunk with my 6-month-old puppy, about 50 yards from her home. The screen door opened, out ran four BIG dogs and I froze in my tracks. When they were about 10 feet away, she yelled something in German. The two Shepherds circled my car to the left, and the two Dobermans to the right. They came together in front of me and sat down to wait for their master. Right then, I knew this was the person I wanted to teach me how to train my dog.
That summer, I learned much of what I still use today to train and rehabilitate dogs. The following year, I added a female Shepherd named Star to my pack. I joined a Schutzhund club in Orlando and began training with them. Schutzhund is a sport that combines tracking, obedience, and attack training using both verbal and hand commands. I was usually the guy wearing the padded suit getting bitten. Although I still have great affection for the large breed dogs, my heart was stolen by a 14-month-old, 15-pound Havanese several years ago named Indie. She was in danger of being euthanized because of a persistent problem with dog aggression. I adopted her and am happy to say that she is a happy 13-year old and spends her days doing a lot of sleeping.
For over 30 years, I have worked with all different breeds to rehabilitate behavior and obedience issues. Also, and even more importantly, I have taught dog owners to communicate in a language their dog understands. A happy dog is one who learns structure, discipline, boundaries and has a strong, consistent and loving human pack leader.